 route
Caucasus
. Caucasus
The Delicious Silk Road
With more indigenous grape varieties than in anywhere else on the planet (over 500 varieties) and numerous archaeological discoveries to substantiate its claim, the Caucasus (Georgia and Armenia) rightly claims to be the birthplace of wine.
When it comes to wine in Georgia, no place is more representative of Georgian wine culture than
Kakheti
. Tucked at the feet of the great
Caucasus Mountains
and with wide, sun-drenched plains, Kakheti is a wine growers dream. It is here that the Georgian wine renaissance has found its stride and where a handful of boutique wineries and some larger ones, as well, are putting Georgia back on the global wine map.
In Armenia wine, food, music, dancing, and friends all blend into one marvelous mélange that satisfies the palette and ignites the soul. While Armenian wine culture suffered more in the post-Soviet era than Georgia, Armenia is rapidly catching up and has some world-class wines to show for itself.
This tour is designed to give hard-core foodies and wine coinsurers an one-of-a-kind adventure into the heart of the birthplace of wine and discover for themselves how ancient traditions are now producing some thoroughly amazing modern wines.
Day 1 Tbilisi
Arrival to Tbilisi, registration at the hotel, rest. In the late afternoon we'll head out by foot on a city tour and our first foray into Georgian wine culture: winetasting in historic Old Tbilisi. We will visit the bluffs of Metekhi and their beautiful vantage points over the city, as well as The Metekhi Church (late 13th century), which is a symbol of Georgia's fight to maintain its Christian heritage through much persecution. Along the way we'll visit: • The Bridge of Peace – a stunning new walking bridge over the Kura River and The Sioni Cathedral, which was originally built in the 6th and 7th centuries and until 2004 was the central cathedral for the Georgian Orthodox Church. • The Abanotubani Quarter – located in the center of Tbilisi, this district is famous for its complex of sulfur baths standing on the natural sulfur springs. These baths were built in different periods (17th-19th centuries). The current baths form a separate quarter of the city and are a popular venue for residents and tourists alike. • The NarikalaFortress which is the soul of Tbilisi. The discovery of the citadel dates the structure back to the 4th century AD. The fortress was expanded in 7th century and again in the 11th and 12th centuries. At this period of time, the walls went down to the Kura, giving the citadel control over the trade routes that passed along the river. After our walk we'll have a traditional Georgian dinner at one of Tbilisi's best restaurants, where we'll try 2-3 wines and chacha – the traditional Georgian vodka. We'll overnight in Tbilisi.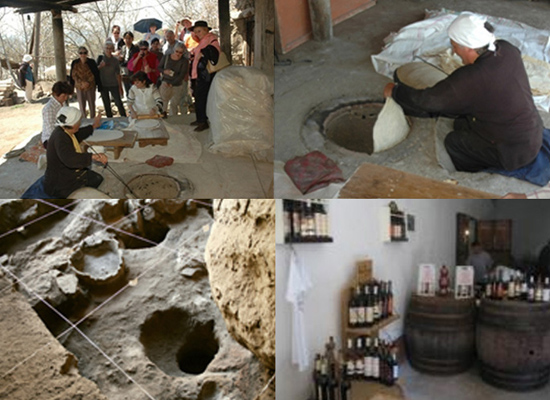 Day 2 Tbilisi – Bodbe – Sighnaghi
After breakfast and check-out, we'll head by bus to Kakheti, Georgia's eastern-most province located on the border with Azerbaijan. Kakheti is the heartland of Georgia's traditional wine culture, where most families keep a wine cellar where they make their own wine using the traditional in-ground, wax-lined, clay jar or qvevri. Along the way we'll sample homemade wines in two different micro-zones: • Hashmi – where we will taste Saperavi wine • Manavi – where we will taste ManaviMtsvane, a dry white wine which uses Mtsvane grapes. Thereafter, we'll head to Sighnaghi and one of Georgia's most acclaimed new boutique wineries – Pheasant's Tears. Here we'll try 4 different varieties of their organic winesand a special sort of chacha with bread and cheese. While at Pheasant's Tears we'll have a master classes in preparing whatever is their traditional Georgian dish of the day, which will be followed by lunch in their beautiful restaurant. After lunch we'll continue on to Bodbe and The Church of St. George, which houses the remains of Nino of Cappadocia – the 4th century evangelist who introduced Christianity to Georgia. Next we'll head back to Sighnaghi, where we'll tour this incredibly romantic city which overlooks the Alazani Valley and the Kvareli Mountains. Along the way we'll visit an ethnographic museum with unique medieval arifacts and 16 paintings from the famous Georgian artist NikoPirosmani (Pirosmanishvili). This will be followed by a visit to The Carpet House where guests will see the ancient Georgian weaving traditions of the Tusheti region. After a brief rest, we'll head out for a traditional dinner at one of the best restaurants of Sighnaghi, where, of course, we'll taste more wines and chacha. Overnight in Sighnaghi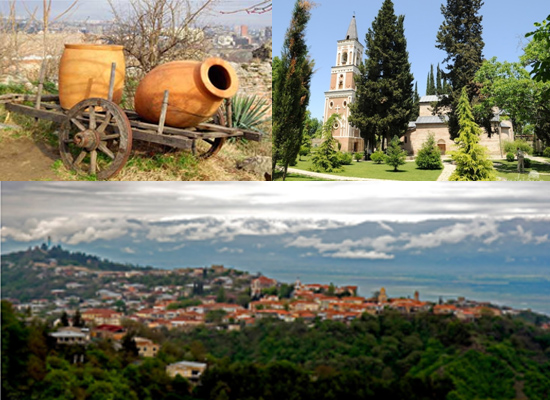 Day 3 Sighnaghi – Tsinandali – Telavi
After breakfast and check-out, we'll drive to the micro-zone of Tsinandali, perhaps the epicenter of Kakheti's wine culture. Here we'll visit the estate of Alexander Chavchavadze. Chavchavadze built a winery where he combined European and Georgian winemaking techniques. The estate includes a beautiful garden and wine cellar, where we'll taste 5 different premium wines including a dry white wine from the Rkatsiteligrape. Next, we will move to the city Telavi, the capital of Kakheti, where we'll will visit the monastic wine cellar at the Alaverdi Cathedral (11th century), which is a UNESCO World Heritage Site. Here monks were already producing wine at the beginning of 8th century. Afterwards, we'll have a leisurely lunch and a degustation of qvevri wine in the Napareulimicro-zone at the TkupebisMarani Winery. After a rest, we'll have dinner and more wine tasting at Chateau Mere, one of the best restaurants and boutique wineries in Shuamta. With it's stunning views, bohemian atmosphere, and incredible Saperavi wines that are winning world-wide acclaim, the evening Chateau Mere will be truly memorable. Overnight in Telavi.

Day 4 Telavi – Gurjaani – Ijevan – Dilijan
After breakfast and check-out we'll drive to the Kvareli micro-zone, located in the Alazani Valley. There we'll visitthe Khareba Winery, one of the largest in Georgia. Here you will try several wines from traditional Georgian varietals in the Kvareli Tunnel. From there we'll we move to Gurjaani, where we'll visit a family wine house, which produces traditional wine in qvevri. During the wine-tasting, we'll try traditional Georgian bread or shoti and delicious Imereticheese and seasonal fruit. In the afternoon we'll head across the border to the Armenia mountain town of Ijevan. Ijevan is the heart of cognac country, as the micro-climate is ideal for the grapes used to make cognac. However, what brings us to Ijevan is a secret stash of delicious, nearly 40 year-old wines that are hidden away in the back of an old factory. It's likely the least attractive place you'll ever have a wine tasting, but trust us, the experience will be one the highlights of your whole trip! In the late afternoon we'll head to the mountain resort town of Dilijan where we'll have dinner at the Haykanoush Restaurant in the Tufenkian Old Dilijan Hotel Complex. Therestaurant's concept isbasedonreceipiesfromcookbooksfrom 450 yearsago, whenArmeniancuisinehadfewerPersian and Turkishinfluences. We'll overnight in Dilijan
Day 5 Sevan – Yerevan
After breakfast at the hotel, we'll check out and proceed to Lake Sevan, one of the largest and high-altitude lakes in the world. We'll visit Hayravank monastery (9-12th centuries) and the Sevan monastery (9th century) on the peninsula. We'll see ancient Khachkars (9-17th centuries) near the Noradouz village. Next we'll head to Armenia's capital, Yerevan. After checking into our hotel, we'll have lunch we'll have lunch at La Piazza, one of Yerevan's newest and trendiest restaurants located on Northern Avenue, Yerevan's new pedestrian street. After lunch we'll stroll down Northern Avenue and arrive at the Freedom Square, the home of the Opera and Ballet Theatre (architect A. Tamanian). The design and layout of the building were presented at the 1936 World Exhibition in Paris and awarded with Grand Prix. Not far from the opera is the Cascade. The Cascade is a monumental sculpture garden, art museum, and staircase. Along with a monument to the great A.Tamanian, the Cascade houses the Cafesjian Center for the Arts, which includes a world-class sculpture garden and indoor modern art museum. With works from Botero, Chihuly, Arshile Gorky, Jennifer Bartlett, Lynn Chadwick, Barry Flanagan, and Jaume Plensa, and many others. We'll follow this up with a visit to one of Yerevan's true treasures: the Matenadaran. In the sphere of ancient manuscripts, the Matenadaran is one of the richest deposits of manuscripts and documents in the world. There are over 17,000 ancient manuscripts preserved, covering all areas of Armenian culture. In the late afternoon we'll visit to Ararat Brandy Factory and Museum where our guests will explore the 120-year history of one of the world's most renowned brandy factories, and see the oldest Armenian barrels produced and the awards that Ararat has won down through the decades. The visit includes a cognac tasting. For dinner we'll head to Noyan Tun, Yerevan's best French restaurant. We'll overnight in Yerevan.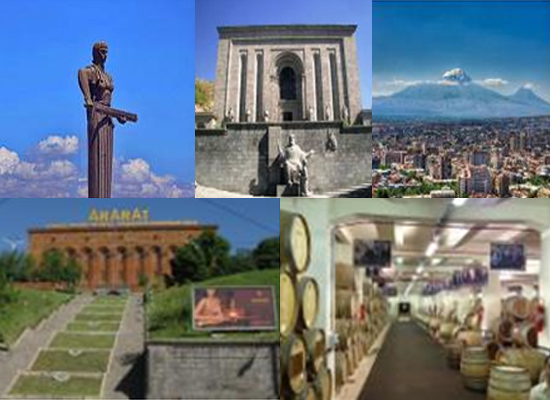 Day 6 Yerevan – Khor Virap – Aghavnadzor – Rind – Areni
After breakfast and check-out, we'll drive towards KhorVirap Monastery (4-17th c.) whose name means deep dungeon. This complex is the place where the founder of the Armenian church, St. Gregory the Illuminator, was imprisoned for being a Christian evangelist. He was freed when Armenia became Christian state in 301 A.D. Its location, near the closest point to Mt. Ararat within Armenian borders, offers a spectacular view of the mountain, the national symbol of Armenia. From there we'll drive to the VayotsDzor region, which is Armenia's most storied wine growing region. It is here that Areni-1, the world's oldest winery (over 6000 years old) was discovered recently in a local cave. As we enter VayotsDzor we'll drive through a rocky canyon and experience the unique scenery in the Amaghou Valley, before arriving at our first stop – Trinity Winery. Trinity is a private organic winery that has yet to launch a commercial label, but it is quietly collecting a passionate following for it's unique rosé wines and it's blow-your-socks off areni(a deep, full-bodied red) wines. We'll finish our degustation here by sampling Trinity's grappa. By bringing you this exclusive experience, you'll truly be able to say "I was there at the beginning" of what has the potential to become a winery of worldwide fame. After Trinity we'll head to the village of Aghavnadzor where we'll have a leisurely lunch in the garden of a local family. We'll try a variety of traditional home-cooked dishes and sample homemade clay-jar wine, as well as participate in a master class on how to make Armenian flatbread or lavash. In the mid-afternoon, we'll take a hike to Shatinvank Monastery. Built on the Yeghegis River in 929 AD, Shatinvank was one of the largest religious and cultural centers in the province. Among other things the monastery had a mill, a canal, and a bridge. After the hike, in the late afternoon light, we'll head to Zorah Winery in the village of Rind. Twelve years in development, Zorah released its first vintage in the autumn of 2012 to worldwide acclaim. Producing exclusively areni wines, Zorah'sKarasiAreni 2010 was ranked by BusinessWeek as one of the top 10 new wines in the world in 2012. The 360-degree mountain views from the Zorah Estate are thrilling and the wine is an absolute must to be experienced. As the sun is setting we'll finally move on to the town of Areni, where we'll have dinner at Old Bridge Winery and Goat Farm. Old Bridge is a micro-winery that produces a quality Areni in very small batches. They also happen to be the leading goat farmers in Armenia, so as we watch the sunset, we'll enjoy an amazing barbeque dinner of goat meat, different goat cheeses, and other Armenian delicacies, along with delicious wine to top off the day. We'll overnight in a quaint bed and breakfast in Areni.
Day 7 Areni – Noravank – Echmiadzin – Yerevan
After breakfast and check-out, we'll start our moring with a brief wine tasting at Areni's best white wine producer, Getnatoun Winery. Their Narinebrand wine (which use native voskehat grapes) have just won gold at a major competition in the US. From there, we'll travel to Noravank Monastery. Built in the 13th-14th centuries and surrounded by dramatic red and grey limestone cliffs, Noravank is the only church in Armenia decorated with a unique relief representation of the large-headed and bearded God the Father with large almond shaped eyes blessing the Crucifix with his right hand and holding in his left hand the head of Adam, with a dove - the Holy Spirit - above it. Noravank is a highly artistic monument reminiscent of the tower-like burial structures of the first years of Christianity in Armenia. Next we'll drive to Maran Winery, which is near Echmiadizin, the spiritual center of the Armenian Apostolic Church. Although Maran is a boutique winery, it occupies a massive site that in Soviet times was Armenia's largest winery. Built by German POWs after World War II, Maran's 12 cellars (of which only two are in use) are massive underground constructions and provide a glimpse into the wine industry that was in Armenia. Buildings aside, what makes Maran special is their Bagratouniand Bagratouni Reserve wines. These delicious white wines competitive with the better chardonnays from California. After a wine tasting, we'll enjoy a barbeque lunch in Maran's garden. After lunch we'll head to Echmiadzin to visit the EchmiadzinCathedral which was constructed in 303 A.D. and is the first church built in the world. It continues to be the oldest church in Christianity. According to the Annals of S. V, St. Gregory had a vision of Christ descending from heaven and striking the Earth with a golden hammer to show where the new cathedral was to be erected. We'llalsovisitotherfamouschurchesincludingtheChurch of St. Hripsime (618 A.D.) and TheChurch of St. Gayane (630 AD). Etchmiadzinistheresidence of theCatholicos, the head of theArmenianApostolicChurch. Ontheway back toYerevanwe'llvisittheZvartnotsCathedral. It was a circular cathedral of VII century. As the day draws to a close, we'll head back to the In Vino Wine Bar and Store to sample Armeau, Armenia's first ice wine label. Using Canadian know-how, Armeau comes in red and white vinatages and is a truly unforgettable wine. As it is not yet commercially available, it will be yet another early adopter experience, where our guests will be able to claim they were among the very first to try the wine! For dinner we'll head to Yerevan's home of funk and fusion, The Club, where we'll enjoy live music and food that is a tremendous blend of Armenian and Italian fusion. We'll overnight in Yerevan.
Day 8 Yerevan – Ohanavank – Amberd Castle – Yerevan
Following breakfast, we'll head out to visit the Ohanavank Monastery (5-13th centuries), and the Amberd Fortress (7th century). For lunch we'll head to ArmAs Winery, a massive new winery that has only just opened. Working with leading Italian specialists, ArmAs is seeking to bring Armenian wine to a whole new level. We'll sample their areni (red), and rosé wines as we enjoy delicious Armenian food and a view over the entire Ararat Valley and Mt. Ararat. After a long lunch, we'll wrap our tour with a visit to Armenia Winery. Armenia has been around for several years, but only recently began working with leading French specialists to develop a super-premium wine. The result of their efforts is their new Tariribrand of red (an arena blend) and white (a blend of native and global varieties) and we'll be among the first to try it. For dinner we'll head back to Yerevan for a party at the TumanyanKhinkali restaurant. It's a suitably festive place to conclude this amazing tour. We'll overnight in Yerevan.

Day 9 Departure
After breakfas and check-out we'll transfer to the airport departure.
Day 10
Top